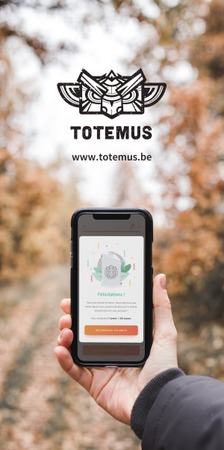 Totemus
Totemus is a completely free app, allowing families or small groups of all generations, to cherish an original experience over the remarkable lands of Wallonia! Half-way between a treasure hunt and geo-caching, Totemus combines sport, different levels of walks and culture, with a showcasing of the riches and knowledge of Wallonia, plus adventure.
What is the idea behind it? Throughout their journey, players are called upon to solve riddles, which stretch their powers of observation: finding a date at the foot of a statue, counting the number of windows in a building, providing the name of a road, etc. In doing so, players collect totems and win points, called "toteez", which can be exchanged for gifts at theme parks, museums, playgrounds, restaurants, etc.
A Walloon app to help you discover the region
30 hunts are available in Wallonia; the majority are intended while walking or running, with still others for the bike and one of the hunts (Modave) is even designed for cars.
As for Binche itself, there are 2 hunts:
One by bike: "Binche, its riche

s

and surroundings"

The other for downtown: "Discovering the Binche Carnival"