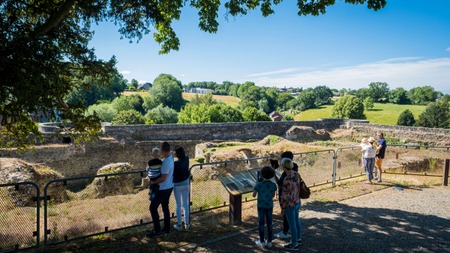 The Communal Park
As the sister of Charles V, Mary of Hungary, regent of the Spanish Netherlands, decided to build a majestic palace in Binche over the ruins of the former Count's castle dating from the 12th century. The architect, Jacques Dubroeucq, started work in 1545 and finished it in 1549, shortly before the arrival of Charles V for the presentation of his son, the future Emperor, Philip II. Unfortunately, the palace was torched by troops of the King of France,
Henry II. Rebuilt immediately afterwards, maintenance of the building proved too costly and its demolition was decreed in 1704.
The whole park is encircled by the ramparts and taking a stroll there is really worth the time.
On the other side of the bridge is to be found the Chapel of "Saint-André". It consists of two parts. The first is covered by a shingled vault, the preferred construction method for religious buildings in the region. Its decor symbolizes that all men, whether Pope or Emperor, are destined to die. Death must be "contemplated upon". The second part conveys a different mood to the first. On the theme of death, there now follows the redemption suggested by the prophets and the Virgin Mary. Also to be found there is the old cemetery, where ancient funerary monuments rise up.